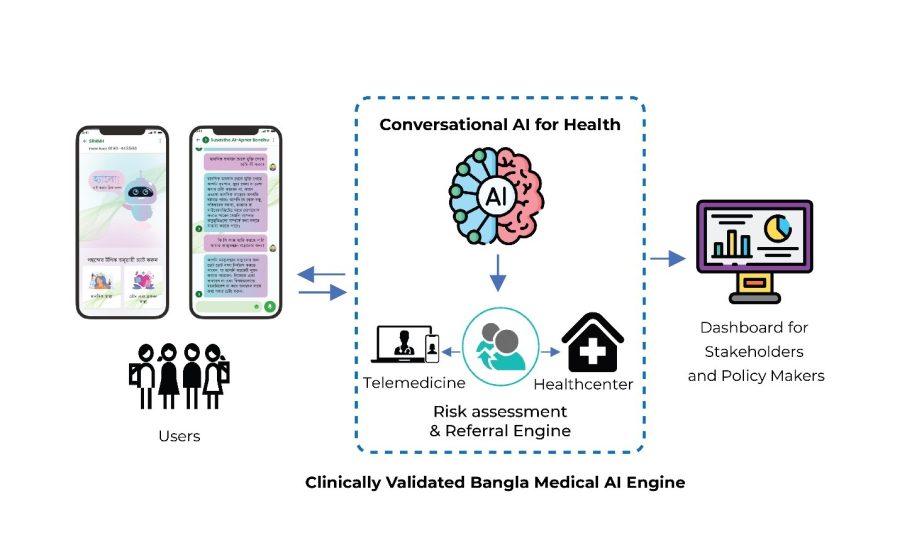 CMED HEALTH Won Grand Challenges Grant from Gates Foundation For Catalyzing Equitable Artificial Intelligence (AI) Use
Dhaka, Bangladesh – CMED Health announced that it is a winner of a Grand Challenges grant – an initiative fostering innovation to solve pressing global health and development problems and funded by the Bill & Melinda Gates Foundation. CMED Health will pursue an innovative global health and development research project focused on Catalyzing Equitable Artificial Intelligence (AI) Use, titled Susastho.ai: an AI enabled solution for adolescents in Bangladesh.
The project aims to address adolescent Sexual and Reproductive Health and Rights (ASRHR) and Mental Health (MH) challenges in Bangladesh and achieve SDG goal 3.7 by overcoming societal taboos and limited access to information and care. The solution involves an open- source multilingual AI engine integrated into the existing digital healthcare platform "SuSastho", providing health education, screening, referral, doctor-consultation and data analytics through an AI-engine, referral engine and stakeholder dashboard. The project plans to conduct beta testing, seek clinical validations and ensure cultural appropriateness through consultative workshops. The next step is to expand the focus to other health issues, and scale-up to similar socio-economic regions.
The project's findings will contribute to building an evidence base for testing AI large language models (LLMs) that can fill wide gaps in access and equitable use of these tools. To learn more, visit grandchallenges.org
CMED Health is a health-tech startup transforming the healthcare landscape in Bangladesh using its end-to-end comprehensive multi-layered, scalable digital healthcare platform by connecting people with health services, early diagnosis, health education, and referrals for intervention to achieve the government's vision of Health Inclusion for UHC and SDG. With this platform, CMED runs different wellness solutions:
Digital Health Corner: An enterprise wellness solution to ensure a healthy workplace
SuSastho Seba Kendro: A retail digital healthcare solution given through a mobile app via pharmacies
General Practitioner (GP) Model: A Comprehensive Preventive, Promotive and Primary Digital Healthcare service at Doorstep ensuring Safety Net for Communities in urban and rural areas.
CMED works with DGHS, MoWCA, PKSF, UNICEF, UNDP, ILO, BRAC along with different ministries of GoB, and already has over 3.5 million subscribers. As a health-tech start-up, CMED won multiple awards, including the Digital Bangladesh Award 2022, Bangladesh Innovation Awards 2019, Asia Pacific ICT Awards (APICTA) 2019, Seedstars Global Innovation Prize 2018, Innovative Social Enterprise Award in DBS – NUS Social Venture Challenge 2018 and received an innovation grant from the ICT division, Government of Bangladesh.
#SuSastho.ai
#AI4Health